writinchica2k
Whee, I popped my BigBang cherry! ;p
I had honestly never thought to participate in a BB before, as I was thinking,
You want THAT many words in HOW much time? Nothx.
Of course that was before I learned one could also be an artist, so when first opportunity came along I jumped on it like white on rice. Which led me to the

glambertsbb
and

maybe77
's Break Into Me, where Adam Lambert is an FBI agent and Tommy Ratliff is a thief wanting out of the syndicate. There's action and drama and moodiness and darkness and mayyyyyybe a nice couple pinches of love ;)
Being the fanmix junkie I am, there was no way I couldn't put something together for this. So, dear Maybe, merci for not only giving me an excellent story to work with but assuring me my song choices were just right ♥ You can see 'em all (along with some extra smidgens of art) after the
break
cut :) ONWARD!
Banner: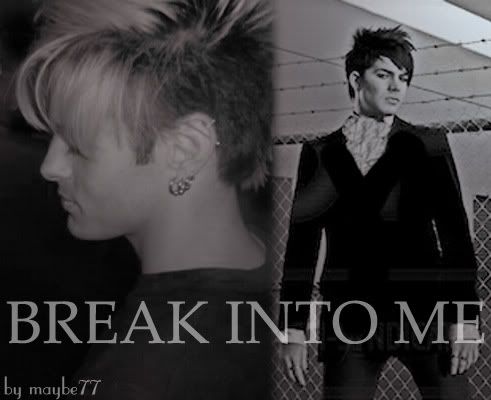 Section divider:

Icons:























Fanmix: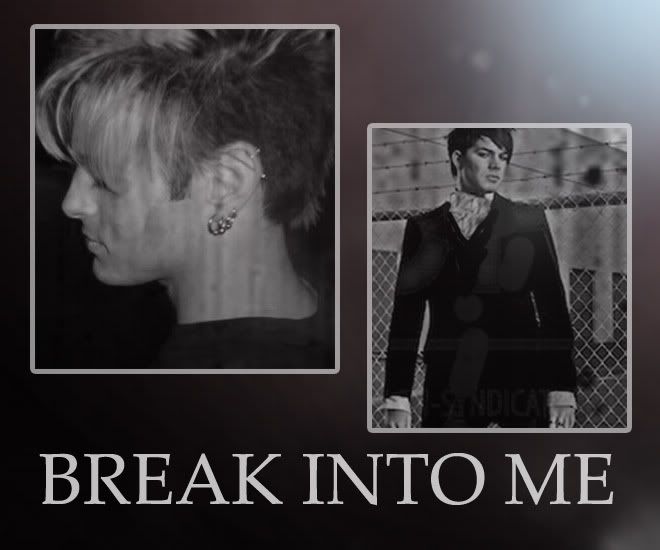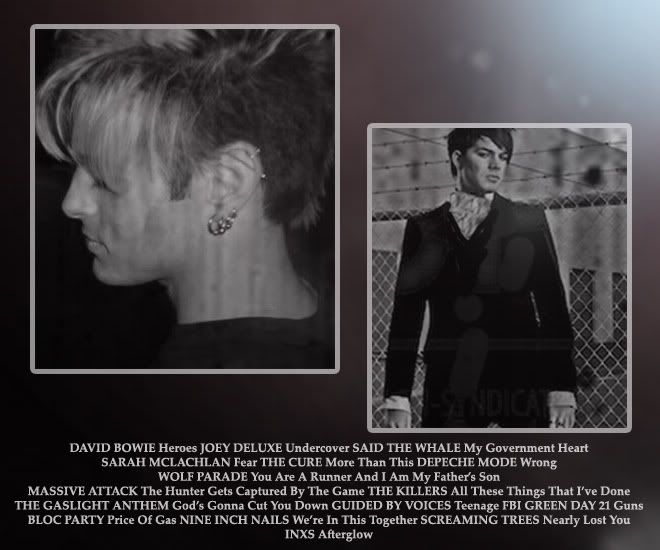 David Bowie - Heroes
I
I can remember
Standing
By the wall
And the guns
Shot above our heads
And we kissed
As though nothing could fall
And the shame
Was on the other side
Oh we can beat them
For ever and ever
Then we can be Heroes
Just for one day

Joey DeLuxe - Undercover
You're movin' outside the law, you better watch your back
'Cause she could be a double agent, Matahari may be on your track
You better give her the slip, slip a shadow, baby, shake your tail
'Cause it's one false move and you're dead, you've got to know when to bail

Said The Whale - My Government Heart
I do regular citizen things, but that's where it ends
'Cause my secret government mind is a rare breed
I can't love, I can't feel or have passion but I don't mind
'Cause my secret government facts tell me
Despite what many normal citizens say
Love causes pain and pain hurts and now passion is dead
Before I became a secret agent spy
I was put on this earth with a regular life
Smiling and laughing and singing away
But I could not keep my curious mind at bay

Sarah McLachlan - Fear
Winter's end
promises of a long lost friend
speaks to me of comfort
but I fear
I have nothing to give
I have so much to lose
here in this lonely place
tangled up in our embrace
there's nothing I'd like
better than to fall
but I fear I have nothing to give

The Cure - More Than This
For a second of your life
Tell me that it's true
Waiting for a sign
It's all I want of you
Your heart hides a secret
A promise of what is
Of something more than this
Just a second of your time
Any one will do
A taste of any other
Is all I want from you
Offer me the world
And how can I resist
Something more than this?

Depeche Mode - Wrong
I was marching to the wrong drum
With the wrong scum
Pissing out the wrong energy
Using all the wrong lines
And the wrong signs
With the wrong intensity
I was on the wrong page of the wrong book
With the wrong rendition of the wrong look
With the wrong moon, every wrong night
With the wrong tune playing till it sounded right

Wolf Parade - You Are A Runner And I Am My Father's Son
I got a number on me
I got a number
Won't make it through the high noon sun
I am my father's son
I am my father's son
His bed is made
I was a hero
Early in the morning
I ain't no hero
In the night
I am my father's son

Massive Attack - The Hunter Gets Captured By The Game
I had to lay such a tender trap
Hoping you might fall into it
Love hit me with a sudden slap
One kiss and then i knew it
My plans didn't work out like i thought
'Cause i had laid my trap for you but it seems that i got caught

The Killers - All These Things That I've Done
And when there's nowhere else to run
Is there room for one more son
These changes ain't changing me
The cold-hearted boy I used to be

The Gaslight Anthem - God's Gonna Cut You Down
Well you may throw your rock and hide your hand
Workin' in the dark against your fellow man
But as sure as God made black and white
What's down in the dark will be brought to the light
You can run on for a long time
Run on for a long time
Run on for a long time
Sooner or later God'll cut you down

Guided By Voices - Teenage FBI
Someone tell me why I do the things
That I don't wanna do
When you're around me I'm somebody else

Green Day - 21 Guns
When you're at the end of the road
And you lost all sense of control
And your thoughts have taken their toll
When your mind breaks the spirit of your soul
Your faith walks on broken glass
And the hangover doesn't pass

Bloc Party - Price Of Gas
Nothing comes for free
Make like a stone, make like a plant
I can tell you, how this ends
We're going to win this
With spades and truncheons, guns and trowels
That is how the war will be won

Nine Inch Nails - We're In This Together
I've become impossible
holding on to when
when everything seemed to matter more
the two of us
all used and beaten up
watching fate as it flows down the path we
have chose
you and me
we're in this together now
none of them can stop us now
we will make it through somehow
you and me
if the world should break in two
until the very end of me
until the very end of you

Screaming Trees - Nearly Lost You
Drag me far enough to know
I'm blind every mile that you burn
There's a rider that's fallen and
It's clear there's no time to return
I nearly, I nearly lost you there
And it's taken us somewhere
I nearly lost you there
Well let's try to sleep now

INXS - Afterglow
Bathed in blue, the walls of my memory divides the thorns from the roses
It's you and the roses
Touch me and I will follow in your afterglow
Heal me from all this sorrow
As I let you go I will find my way when I see your eyes
Now I'm living in your afterglow